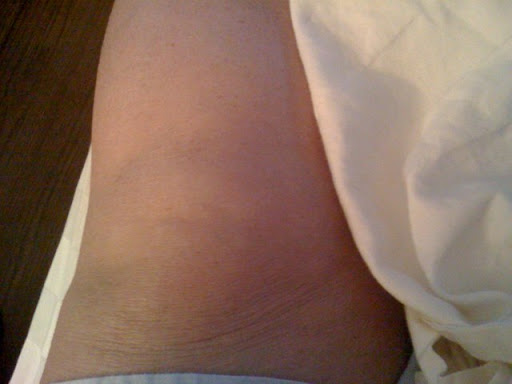 Yesterday at 3:30. I had a total knee replacement on my left knee. It went very well. I have been in excruciating knee pain for seven years.
I use to walk 3 miles a day at 6:00 AM with three Old English Sheepdogs, every week day, except if there was a thunderstorm. In the three years I walked faithfully, there were two thunderstorms at 5:30 in the morning.
Needless to say, I was a dedicated walker, who lost 50 pounds. The dogs felt good and so did I, until May 2003. What started as a little stiffness became full fledged arthritc pain. By last fall, I could barely walk. I plan my days around my knee. I plan vacations around my knees.
Well ladies, enough was enough and I made the decision that no matter how frightened I was of surgery, I was more frightened of being an old lady before my time.
So here is my left knee without scars and damaged beyond repair. I now have a new bionic knee, covered on dressings along with an 8 to 10 inch scar.
IT IS 2:00 am and everytime I fall asleep a bell goes off or a nurse comes in the room.

I will keep you posted!!!