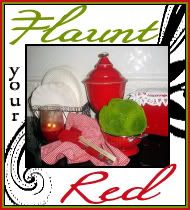 I am joining
Nancy's
flaunt your red party. Nancy is a wonderful Southern Lady who I would sign up for decorating lessons from her.
Here is a popcorn popper that I found at a yard sale.
Isn't it pretty? $30!!!!!! We entertain a lot and will use it all the time.
Okay, so here is my dilemma, I am sooooo tired of my red kitchen. I want to paint it, today. If I could clear off my plate, I would spend the next three days painting it. I dream about painting it at night..... I need an intervention or a painter.