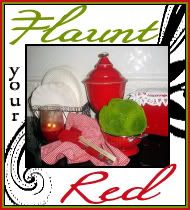 Today, Nancy at
Southern Lady
is hosting a flaunt your red party. She has much better taste than I do but I do have a red kitchen. When we moved in our home it was a very 80's Waverly papered kitchen. However with seven windows in the kitchen, I knew that this room could go dark.
We have added an island to this space.
I love red toile and the chickens.
And don't forget my fabulous cake plate.
Oh I stuck this in because the cupcakes match the cake plate and he is so cute.
Hope you enjoy my red kitchen.
Reminder For Lent:
I am turning off the blog comments on this blog until Easter. I love my blog friends and will put my email in my profile to hear from you. I will follow all of your blogs. My purpose is to focus on him not myself.